IFCS Individual Standard & Jumpers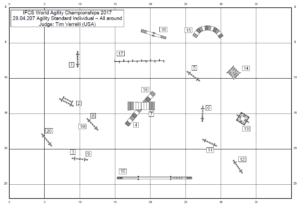 The Individual Agility and Individual Jumpers Classes are being run today. Courses for the two events are shown at right (click the image to enlarge).
Team Canada had a successful day in the medals, though the Gold in half the classes continued to fall to the Russian team, as they continued to dominate. Great Britain had a strong showing particularly in the Jumpers class as they had a notable rise in the medal count.