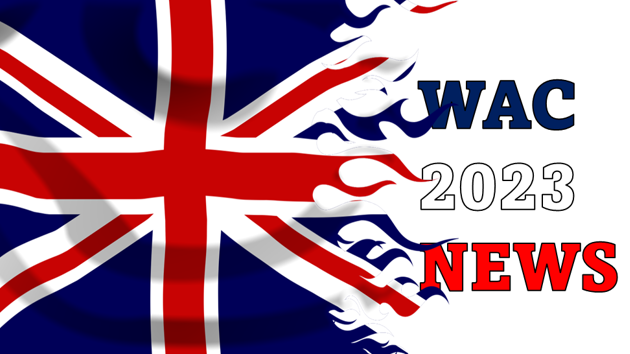 Great Britain (FAB) are excited to host you all at WAC 2023 Oakridge Arena, Newark. Hotel options have now been added to the website.
Limited camping is available onsite, please complete this new form to express an interest in reserving a camping space. Camping is available from Monday 31st July (pm) until Wednesday 9th August for those who may wish to travel on to the Kennel Club international Festival. Camping will be £15 per night.
Dogs rules UK: dogs will need to have a valid rabies vaccine with passport or AHC (dependent on if part 1 or 2 listed) had tapeworm treatment 24-120 hours prior to arrival in UK (Except from Finland, Ireland, Norway, Malta) Unlisted countries need to follow different rules, click here for all info.
Take the opportunity while in the UK to attend the largest agility show in the world at the Kennel Club International Agility Festival 10th – 13th August at Rutland Showground just 50 minutes from the WAC venue. Last year there were 18 rings of agility to watch and enjoy including the special International class and the Nations cup event. The schedule for the KCIAF is usually released in March or April with a closing date early June.
If you have more time available, extend your stay and move on to the fabulous Dogs in Need Agility week at Trinity Park, Ipswich, Suffolk 15th – 19th August. (closing date usually mid June)
If you would be interested in competing at a Kennel Club show, all international dogs need to either have an ATC (Authority to compete) number — click here if the breed is recognised by the KC. If the breed is not recognised it may be registered on the Activities register click here.
If you think this is something you may be interested in doing we would suggest you start the process of getting the registration as soon as possible so it is in place for when the schedules are released.
If you need any more information or help drop us an email wac.2023@yahoo.com and we will try and assist as best we can.